Loneliness both isolates people and contributes to poor health and wellbeing in young people. Connecting Spaces: East reflects on the global pandemic and questions how our current circumstances have impacted young people in this area, especially in their interactions with their local neighbourhoods (i.e. parks, public spaces, homes, streets etc).
Project aims
The project replicates elements of a PHD study conducted by researcher Sam Fardghassemi and Professor Helene Joffe about the experiences of loneliness in young people living in East London. The new study was conducted on a smaller scale with the involvement of artists Syrup and researcher Dr Gemma Moore during the first national lockdown in 2020.
The process of this project focused on the collaborative potential for artists and researchers to work together and learn from one another. Exploring this subject from both scientific analysis and a creative mindset, documenting opportunities for knowledge exchange and expanding the project further both in terms of creative output and research.
What took place?
All our meetings were conducted on Zoom, and the team has never met in person. The data collection part of the project took place from June - July 2020, just after the first lockdown in London and not long before the second. Helene's students at UCL, who all have a mixture of backgrounds and specialisms decided to use the data, along with Sam's PhD findings as the basis for some of their coursework.
︎︎︎ Postal study to explore connection & isolation
︎︎︎ Meetings and discussions through zoom
︎︎︎ Everything disseminated remotely
︎︎︎ Analysis by UCL students (on going)
︎︎︎ Analysis by artists to explore potential creative outputs
Briefing the UCL students
Creative anaylsis, identifying common themes & mapping
Geographical mapping of the participant's location to show proximity to parks and open space, as well as the spread of participants across London
The Team
UCL (researchers)
Sam Fardghassemi
Dr Gemma Moore
Professor Helene Joffe

Syrup (artists)
Emily Briselden-Waters
Grace Crannis
What did we learn?
This project was primarily a knowledge exchange between artists & researchers. Here are some of the things we noticed:
︎︎︎ We questioned the value of different kinds of knowledge and production︎︎︎ The project highlighted ︎︎︎differences between scientific analysis and creative interpretations and the significance we all placed on process vs outcome
︎︎︎ That for participants, taking part in small reflective tasks can be a valuable experience
"This process revealed that for us (artists), the data is our source material, and we see it as a culmination in a series of actions and decisions by participants which are equally interesting. From a scientific perspective, the data seems far more to be the end product or outcome."
Grace Crannis

"For me the dialogue we had around the process was interesting, as an artist/designer the process is integral to everything we do and is often fluid and changes and develops as the project does. However, gaining insight into how research is carried out in a more scientific approach allowed me to understand that the process is something that is much more fixed, and almost systematic format for analysis."
Emily B-W
"I learned about young people's experience of loneliness during the national lockdown, which I think was very important. I also learned about how the same piece of research can be analysed artistically. It gave me a perspective that I never thought about and actually now appreciate its value. Sometimes within the scientific community, approaches are very systematic but through this project, I learned to appreciate the value and importance of a more creative way of looking at a project."

Sam Fardghassemi

"This project made me wonder how we move from exchanging knowledge to producing new knowledge (which I think we did) – and what knowledges are valued in that process.
"...within scientific processes and research projects there can be a tendency to value certain forms of knowledge or data – or lean towards certain established protocols. This project made me question my own values and assumptions on this – it made me think of what counts as 'research'. I think we undertake research within this project, but is this new knowledge valued within our specific spheres (i.e. art, psychology, geography/urban studies)?"
Dr Gemma Moore
To read the full statements written by the artists & researchers,
please click here
.
What did we learn from the study?
Whilst in some ways the study was limited to the participants we were able to access remotely, the responses proved to be a valuable insight into the experiences of young people in East London during lockdown. Here is a sample of some of the drawings and stories we received, and some of our initial analysis:
Feeling connected/feeling alone: initial analysis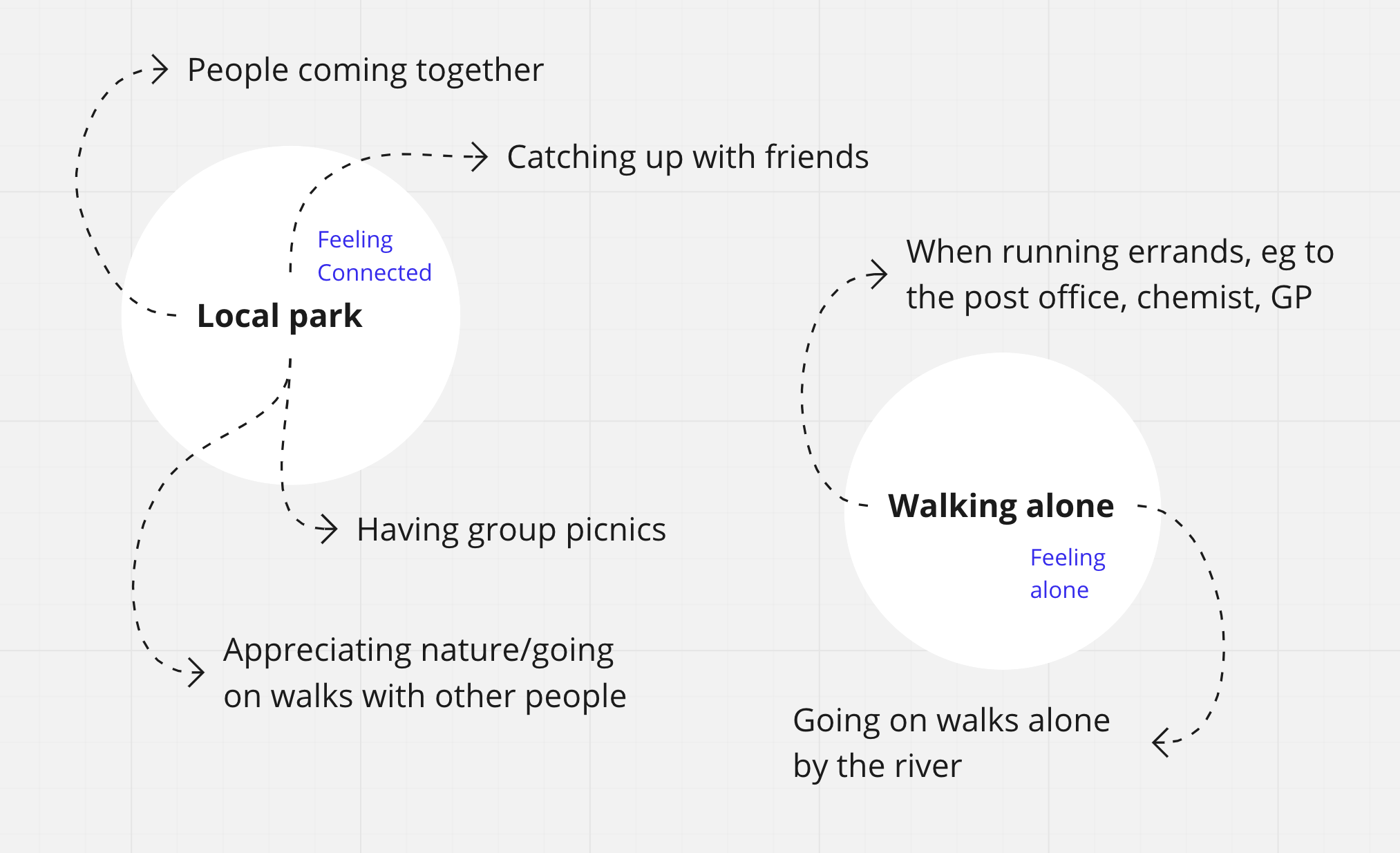 Mapping spatial connection diagrams

Impact and next steps
This project was a short one - intended to spark a connection between practitioners who may not usually work together, which was a very successful outcome. As part of the process, we had many valuable conversations as part of the team about our work and why we made decisions, and understanding each other's project journeys.
Some next steps could include:
︎︎︎ The brief conclusions we can draw from analysing the studies could certainly be expanded with more data.


︎︎︎ There are lots of possible creative outputs for the process, which could reflect some of things participants told us back to the community.


︎︎︎ It would also be great to explore and investigate some of the themes in more detail through conversations with participants, not just postal studies.
Syrup
Syrup is a social design and engagement platform. We make research accessible through designed experiences, our projects collaborate with communities to co-design installations and exhibitions through interaction, narrative and technology. We produce a publication that explores the crossover between intersectional feminism and creative practices, and also curate multidisciplinary event programmes and design & facilitate workshops.
Emily Briselden-Waters

Emily is a lecturer in Graphic Branding & Identity (BA) at London College of Communication (UAL) and has a background in creating immersive experiences & exhibition design as well as moving-image. She makes socially conscious work with a focus on personal experiences. She also works as a creative producer and project manager.

Grace Crannis
Grace is the Design Champion at a collaborative design and research-focused charity, the Glass-House Community Led Design. She has a background in architecture, and works on projects that explore places, engagement, identity and heritage.
UCL
Sam Fardghassemi

Sam Fardghassemi is a PhD Researcher in Psychology at UCL, whose research is examining loneliness in young people, specifically looking at why are young people the loneliest group in modern society? This involves how young people conceptualise loneliness, experience it, what causes their loneliness and what is the relationship between social media and loneliness. Sam's research interests are on loneliness, wellbeing, social media, design of physical environments and interventions to tackle loneliness and improve wellbeing. He also delivers evidenced-based workshops and presentations on the topics within UCL and outside.
Dr Gemma Moore

Gemma Moore is an environmental geographer, her research interests focus upon knowledge production, participation, community engagement, social sustainability and urban health, particularly understanding the relationships between people, their local environment and decision-making processes. She completed her PhD at the UCL: she used an action research approach to examine participatory processes in open space regeneration projects, to build 'sustainable urban communities'. She has significant experience of working on activities that bridge research, evaluation and community engagement.
Professor Helene Joffe
Helene Joffe is professor of Psychology at UCL. Her research focuses on improving the liveability of cities in order to enhance city dweller wellbeing. She has focused on the UK's two largest cities – London and Birmingham – and in this study the particular core was loneliness among young people in the less well-off areas of London. This choice was based on findings by the Office of National Statistics (UK), that those living in the least well-off areas had the highest levels of loneliness. We wanted to explore their worldviews in order to understand this loneliness and then when Covid-19 forced people into lockdown we were able to examine whether facets of lockdown exacerbated or ameliorated their loneliness.
Project funded by
UCL East
2020
"I would like us to draw out an understanding of why spaces can be loneliness-enhancing so that we could test an intervention to see if we could diminish loneliness by changing aspects of the space. Of course there are various structural factors that we cannot change (e.g. housing type/park layout) but we may find that we can have particular impact in the four areas we worked in by an intervention that we are yet to design.""I would like to continue to work with this group in part because it would be really valuable if we could feed into production of a wonderful intervention or installation that could give those using it a sense of wellbeing and social connectedness. I am also someone whose other path could have been art and so I feel very connected to the visual side of the project and to depicting loneliness."
Professor Helene Joffe
Note from a participan